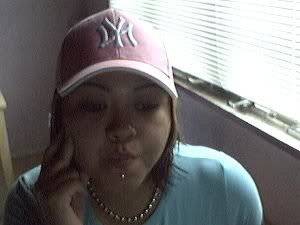 Speaking of which, I heard that they are showing a re-make/re-did/whatever the fuck of Donnie Darko. Inserting scenes that were left out so the movie would make more sense. Tight ass. My dad saw it in New York this past weekend and was telling me about it. So if I can't find it around town then I'm am so going to New York this weekend. Donnie Darko and the NYC, tyte ass. I miss that damn city. ~if only for the pizza~
Certain cities have certain feels to them that I just friggin miss. Chicago just seems so sophisticated and old. I like Chicago in the winter. It's beautiful. The second time I ever went to Chicago I went by myself. The company I was working for always had a Christmas party that was not to be missed and they actually paid for me to go! It was insane. They had a kewl dj and kareoke, the Dinner buffet was off the chain and something I've never seen. ( I didn't realize food was THAT pretty) Then I made friends with some interns they took me around the city despite me not having a fake ID (I was 19 at the time). I had a good time but this dude kinda go mad cause we didn't bone. (I'm like yeah right poin dexter)
This one lady even took me to see a show downtown. A Tuna Christmas...that shit was hillarious. Finding my way home was even more hillarious. They just had a fucking blizzard up there and the bus lines only go so far at night. So I ended up walking cause downtown there was not a cab to be had. So lucky for me my ex's sister lived there and helped me find home. I walke 8 blocks in fucking heals and a skirt in the snow after the bus stopped short of just where I needed to be. Now that's something to tell the kids. (when I was your age...I walked blah blah blah in the snow)
Ah Chicago. It's not as showy or glizy like the NYC but It'll do. It has a real jazzy feel that I can't get enough of. Chicago almost feels like Paris but not quite. Paris always is and always will be my first love.
Anyways...brain droppings of the day.
Today I feel like writing so yey!