Man, Saturday was off the fucking hook, man.
99.1 HFStival Line-up
Main Stage:
11:15 VooDoo Blue
12:05 O.A.R.
01:00 Yellowcard
01:50 Lostprophets
02:50 Papa Roach
03:40 Cypress Hill
04:30 Violet Femmes
05:30 New Found Glory
06:30 P.O.D.
07:35 Jay-Z
08:35 The Offspring
09:45 The Cure
Street Stage:
12:00 Taking Back Sunday
12:45 Fall Out Boy
01:35 The Living End
02:25 Lit
03:20 The Yeah Yeah Yeahs
4:20 Modest Mouse
Since I'm such a lazy ass and James takes forever to look good the world we got to HFS late. No matter. We got there just in time for a quick bite to eat, a drink, and on to Papa Roach. Papa Roach Blazed it and it was so much fun. They played a couple new songs are kicked ass. And I got introduced to my first fuckin mosh of the day. *scrape*
After that we decided to skip Cypress Hill and went to find some cool shade and some water. (The sun makes me thirsty) We found some shade and went on to listen to the last of the Yeah Yeah Yeah whiles sitting under a tree and eating on some Nachos. (Oh why do I love jalepeno's sooo...must be the little mexican in me) We lounged around somemore for Modest Mouse and subsequently missed out on Violent femmes. Which was okay for me cause it was so freakin hot outside. I was just happy to be in the shade. Finally, after we got our bearings *:-)* We went in search of our next beer. We just happend to find it in the Area (How did we miss it the first time?) and posted up for a second waiting for P.O.D.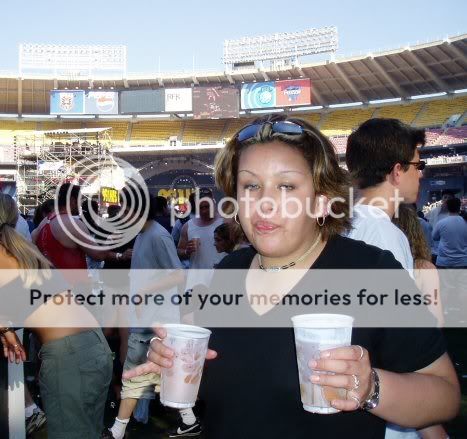 As soon as we were finished with that first one though they closed. *pffft* Bummer!
Oh well, P.O.D. Was up next and we moshed our way to the front before it started.
I got to get a pic of the back of Sonny's head when he was in the crowd....*nice*
Anyways, after those pics we had to get out of the crowds and manged to get through one of the biggest fucking mosh pits there unharmed. (It was scurry!) We chilled there letting our legs rest before we had to Fight all the bitches to see Jay-Z. (James' baby daddy)
As you can see I got a couple good pictures...but again...fighting the crowd proved a little too much for my James and we blazed the fuck out. (My legs were tired anyways) We went up to the top of the bleachers and posted there...Relieved to finally be sitting! I was kinda sad that we didn't get to mosh for the offspring but they were still tight as hell! They were fucking awesome and I am a very renewed fan! Man, I can't tell you how much I enjoyed their set. Ugh, you just had to be there.
Anyways, last but not the least by any means was the cure.
Man, I am so glad I went cause the cure was totally worth it. I love Lulluby. It's the perfect creepy gothy quality that I love. They also played pictures of you and alot of other greatest hits. I'll mos defly have to see them when they come back to play the 9:30. Hell yeah. Great fucking times. And yes, James, we are so fucking on for next year. I can't wait.